バリアフリーの取組み
Barrier-free services
誰もが参加できるために

/

To ensure everyone can participate

障害者の文化芸術フェスティバルは、障害の有無に関わらず誰もが楽しめるような取り組みをします。
当日は、来場者の滞在や鑑賞をサポートする窓口となるウェルカムセンターを設置する他に、それぞれのプログラムでは手話通訳などの情報保障も行います。

The Cultural Arts Festival for People with Disabilities is an effort to ensure that everyone, regardless of disability, can enjoy the festival.
On the day of the event, a welcome center will be set up to support visitors' stay and viewing of the event, and each program will have a sign language interpreter and other information.
残念な思い出の場から、すべての人が楽しめる場へ
From a place of regrettable memories to a place for all to enjoy
映画館の車いす座席は往々にして最前列の端っこにあり、観ているうちに首が痛くなる。
バリアフリー映画は限られた場所、時間でしか上映されない。
満員を理由にコンサートの途中で退席を求められることすらある。
日本では劇場や映画館は、障害者にとって「残念な思い出の場」になることが多い。
Wheelchair seats in movie theaters are often located at the end of the front row, which makes your neck hurt while watching.
Barrier-free films are only shown in a limited number of places and at limited times.
They were even asked to leave in the middle of a concert because of a full house.
In Japan, theaters and movie theaters are often "places of regret" for people with disabilities.
IPC(国際パラリンピック委員会)は「アクセスは人権である」とし、障害の有無に関わらず「すべての人々が同じ体験・同じ水準のサービスを受けられる」ことを求めている。そのために不可欠なのがアクセシビリティと合理的配慮だ。そのことで、劇場や映画館がすべての人に開かれ同じ体験・同じ水準の楽しみが得られる場になる。
障害者問題はその国の豊かさのバロメーターと言われる。文化芸術における合理的配慮の取り組みは、この国の文化を真に豊かにする営みに他ならない。そして、TOKYO2020のレガシーとして根づくことを心より願っている。
The IPC (International Paralympic Committee) states that "access is a human right" and calls for "all people to have the same experience and the same level of service" regardless of their disability. Accessibility and rational consideration are essential for this. This will make theaters and movie theaters open to all and provide the same experience and the same level of enjoyment for all.
It is said that the issue of disability is a barometer of a country's wealth. The commitment to rational consideration in culture and the arts is nothing short of an effort to truly enrich the culture of this country. I sincerely hope that this will take root in the legacy of TOKYO 2020.
認定NPO法人DPI日本会議 尾上浩二
Certified NPO DPI Japan Conference Koji Ogami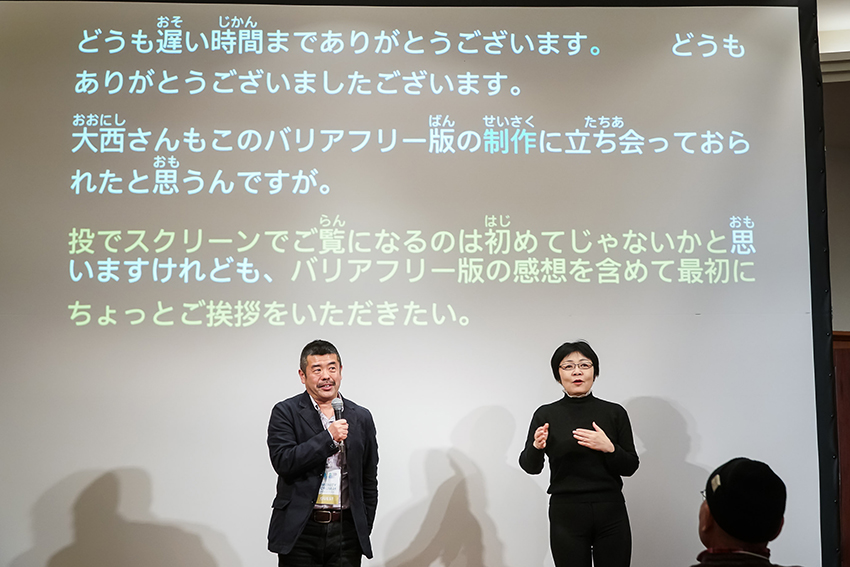 監修:認定NPO法人DPI日本会議
Supervisor: Authorized NPO DPI Japan Conference