地域特集2/長崎県・諫早市、雲仙市、南島原市
Special Edition from Province 2 / Nagasaki Prefecture, Isahaya City, Unzen City, Minamishimabara City
有明海と雲仙岳をひかえる 諫早・雲仙・南島原 酒瓶画の作家が暮らす町へ
Isahaya, Unzen, Minamishimabara covering the Ariake Sea and Mount Unzen
To a town where sake bottle artist lives.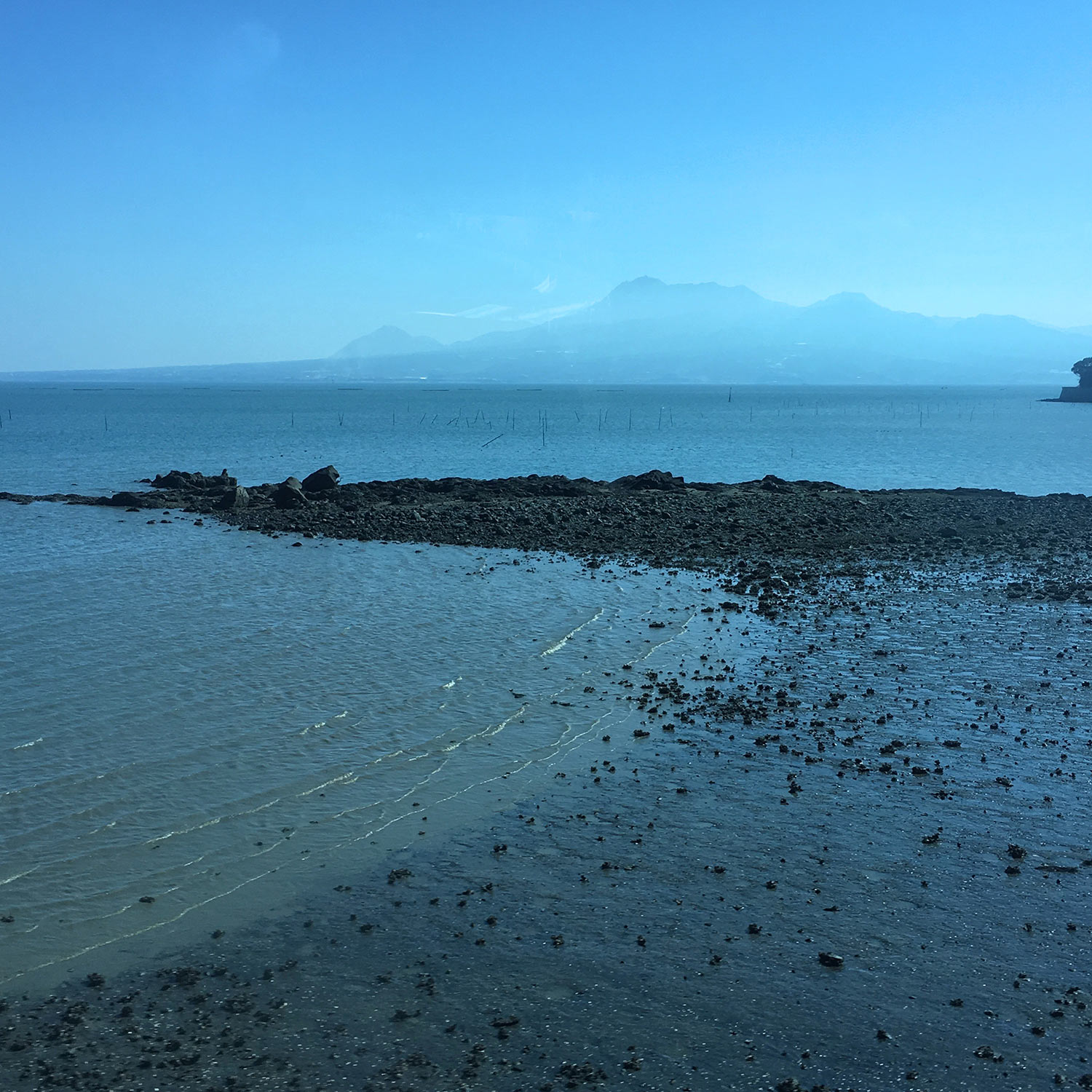 長崎県のまん中・有明海に面した町 諫早
Isahaya, a town facing the middle and Ariake Sea in Nagasaki Prefecture
博多から乗ってきた特急電車の車窓には、肥前鹿島駅を出てしばらくすると有明海が広がった。あたりは湾の奥寄りで水深が浅く、乱立する海苔養殖の竹立てや、干潮で干上がった船溜りに転がるように停泊する小型漁船といった風景が独特である。かすかに見える対岸の雲仙岳の山容がくっきりしてくると、遠浅の内海らしい奥行きのある眺めが展開。そして湾内に伸びる人工物が、視界を横切って飛び込んできた。手前の排水門から対岸の雲仙岳の裾野に向けて、一直線に続く潮受け堤防は、諫早を象徴する風景の一つといえる威容である。
I took a limited express train from Hakata Station and the Ariake Sea spread out from the window in a short time once I left Hizen-Kashima Station. That area is close to the bay and its shallow depth gives a uniqueness to its scenery together with randomly standing row of seaweed cultivation bamboo stand and small fishing boats moored in a boat pool that has dried up at low tide. As the dimly looking mountain shape of Mt. Unzen on the opposite shore becomes clear, a deep view like a shallow inland sea unfolds in front of you. Artifacts that stretched into the bay jumped across the sight. The tidal levee, which runs straight from the drainage gate in front to the foot of Mt. Unzen on the opposite bank, is a dignity which is a part of the scenery that symbolizes Isahaya.
諫早は博多から特急で1時間40分、長崎市街からは長崎自動車道経由で30分ほどのところに位置する。干拓による平野の先には有明海が広がり、緩慢の差が激しいため干潟に生息する個性的な魚介類でも有名だ。展示施設「干拓の里」にある諫早干拓資料館では、沈まないように漁をするための板のそり「はね板」や、ムツゴロウを引っ掛けて釣るかぎ針など、珍しい漁具が見られる。隣接のむつごろう水族館では、ユーモラスな動きで魅了するムツゴロウなど、干潟の生き物を展示したコーナーも。市街にはこれら魚介を味わえる店舗もあり、有明海の豊かさを随所で体感できる。
Isahaya is located in the place one hour and 40 minutes by express from Hakata, and about 30 minutes from Nagasaki city if you take the Nagasaki Expressway. The Ariake Sea extends beyond the plains due to reclamation. It is also famous for its unique seafood that lives in tidal flats due to its severe difference in slowness. At the Isahaya Reclamation Museum, located in the exhibition facility "Land of Reclamation", you can see rare board sledge "Haneita" (literally meaning springboard for fishing preventing from sinking) and a crochet hooked by a mudskipper. At the adjacent mudskipper Aquarium, there is also a corner where humid creatures such as mudskippers are fascinated with humorous movements. You can enjoy this seafood at different shops in the city, and you can experience the richness of the Ariake Sea everywhere.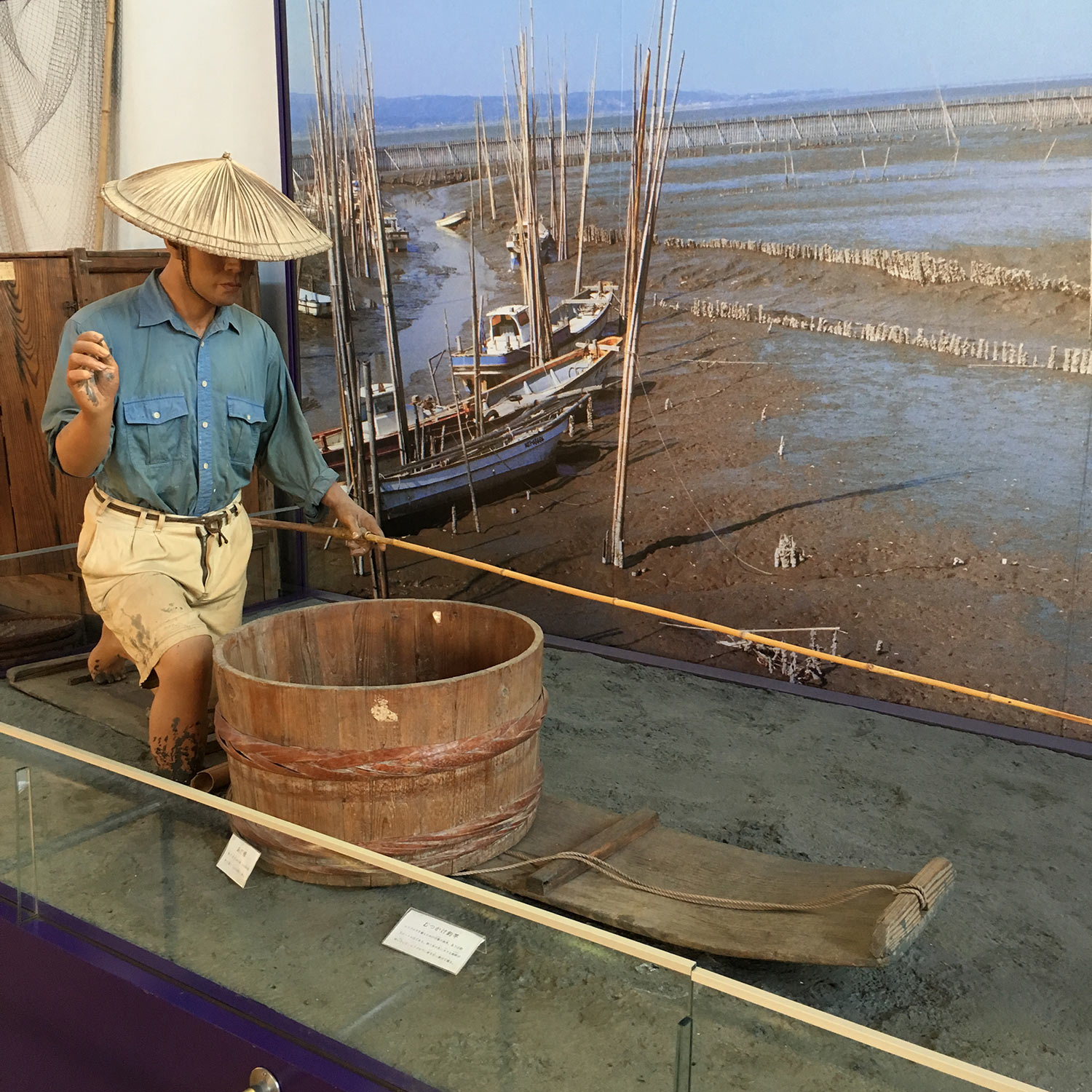 諫早市と隣接する島原半島の雲仙市を中心に事業所を展開する、社会福祉法人南高愛隣会は、2020年5月から開催予定の「障害者の文化芸術フェスティバル ART BRUT CREATION NIPPON in NAGASAKI」の実行委員会・事務局を務めている。「ふつうの場所で、愛する人との暮らしを」をキャッチフレーズに、障害者それぞれに寄り添ったきめ細かい支援が、こちらの運営方針の特徴だ。サービスメニューによると、グループホームでの共同生活援助、自立のための職業訓練といった生活支援・日中支援の中に、生き生きと豊かな暮らしを営んでもらうためのプログラムがあり、キャッチフレーズにあるような取り組みを見ることができる。
"Nanko Airinkai", a social welfare corporation expanding its facilities around Unzen City on the Shimabara Peninsula, which is adjacent to Isahaya City. It serves as the executive committee and secretariat of the "Cultural Arts Festival for the Disabled People's ART BRUT CREATION NIPPON in NAGASAKI" scheduled to be held from May 2020. Under the slogan "Living with loved ones in an ordinary place", the fine-grained support provided by each person with a disability is a feature of this management policy. According to the service menu, there is a program to have everyone live a lively and rich life under the life support and daytime support, given by group homes with aid and vocational training for independence. You can see the efforts like in a catchphrase.
酒瓶画の個展を開いた作家 犬塚弘さん
Writer Hiroshi Inuzuka, opening a solo exhibition of sake bottle painting.
諫早駅からクルマで10分ほど、東諫早駅前にある南高愛隣会の事業所で、こちらに入所している酒瓶画作家の犬塚弘さん(51)にお目にかかることになった。若い頃から日本酒の酒瓶画を描き続けており、これまでに600点以上もの作品を残している。2019年12月には個展「犬塚弘絵画展 酒びん×人生」を、長崎市出島町にある長崎県美術館で開催。今回の展覧会に出展されてはいないが、暖かく味のある作風に注目が高まっている。
At the facility of Nanko Airinkai, near Higashi Isahaya Station located about 10 minutes by car from Isahaya Station, I met Hiroshi Inuzuka (51), a liquor bottle writer who is staying here. He has been painting sake bottles since he was young and has left more than 600 artworks. In December 2019, a solo exhibition "Hiroshi Inuzuka Painting Exhibition. Sake Bottles and Life" was held at the Nagasaki Prefectural Museum of Art in Dejima-cho, Nagasaki. Although not exhibited at this exhibition, warm and tasteful style is attracting attention.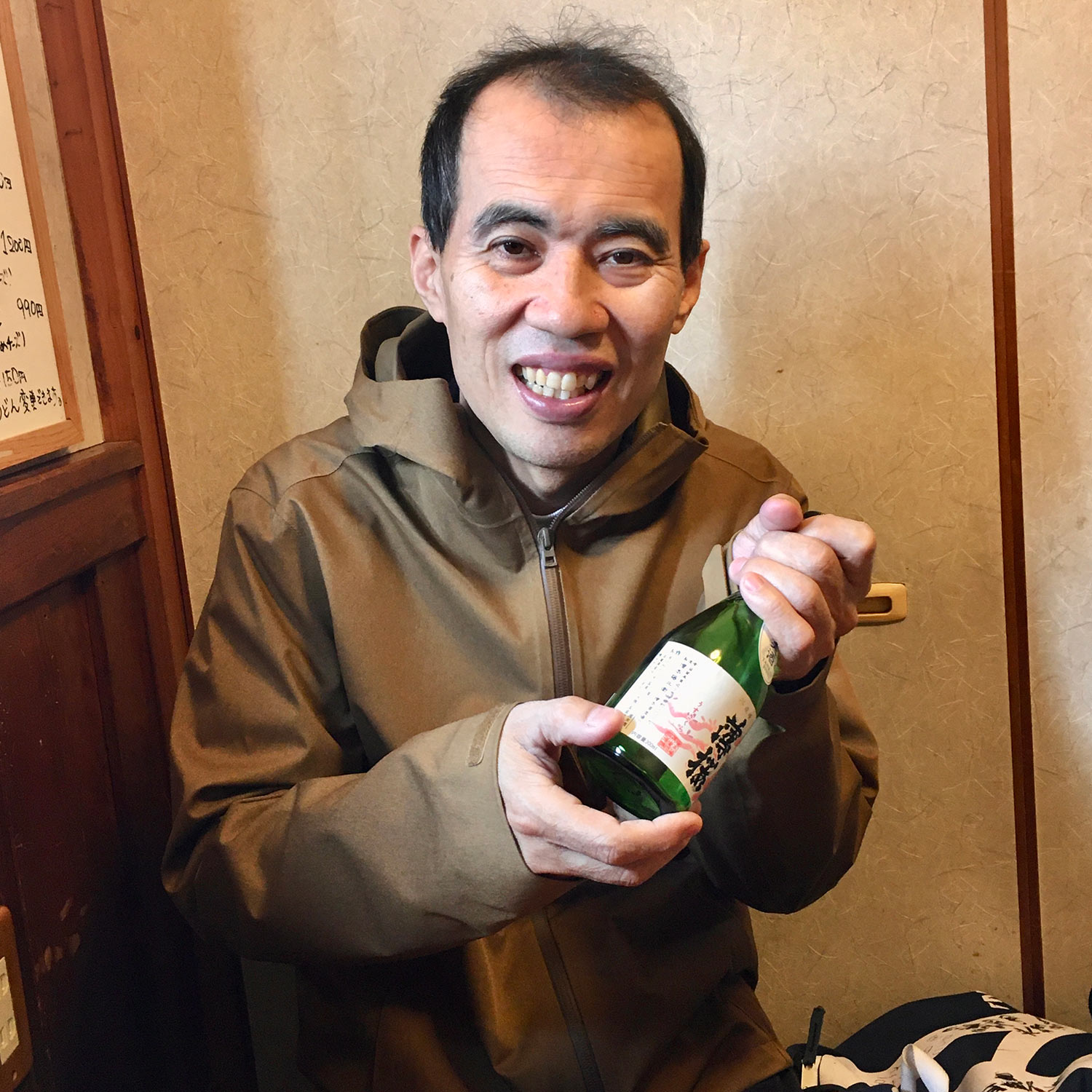 犬塚さんの出身地、長崎県伊王島は、長崎半島の中ほどから沖之島を経て、橋で繋がる島である。長崎市街から長崎湾を挟んだ対岸に位置するため、海が美しく現在はホテルなどのリゾート施設も立ち並ぶ。伊勢海老漁をはじめ県内屈指の漁業拠点でもあり、犬塚さんも漁師の家の6人兄弟の4番目に生まれた。5歳で自閉症と診断されたのだが、幼い頃から酒瓶とラベルへの興味が強く、漁師の父がよく宴会をしていて酒瓶が身近にあったことが、その背景とされる。近所の酒屋や他の家までラベルを取りに行ってしまうほどで、親は謝りに回り大変だったとのエピソードも残っている。
Inuzuka's hometown, Ioujima, located in Nagasaki Prefecture is an island connected by a bridge from the middle of the Nagasaki Peninsula through Okinoshima. Located on the opposite shore of Nagasaki Bay from the city of Nagasaki it boasts the beautiful sea scenery and currently there are many resort facilities such as hotels. It is also one of the prefecture's leading fishing bases, including Ise shrimp fishing. Inuzuka was born as the fourth among six brothers in a fisherman's house. He was diagnosed with autism at the age of five. He even went to a nearby liquor store or other houses to get labels, and there were episodes in his life, when he felt hard as his parents went around apologizing for him.
犬塚さんが絵を描き始めたのも、酒瓶に興味を持ち始めた5歳からと早い。そのためか幼少期に描いた絵にはかならず、酒瓶がどこかに描かれている。伊王島の海や自然の風景、祭りの縁日、運動会などの行事。運動会の絵といっても弁当のアップで、まわりに描かれた酒瓶やグラスは、親が近所の仲間と酌み交わしながら見ていたのだろうか。15歳の時に当所に入所した際、焼酎工場を見学したのがきっかけで酒蔵巡りを始め、25歳でグループホームに移った頃から本格化。酒造巡りと並行して描き続けた酒瓶の絵が次第に見出され、2014年に46歳で酒瓶画作家となった。2019年12月24〜28日には前述の個展を開催し、5日間で1500人が来場する盛況だった。
Inuzuka started drawing as early as the age of five, when he started getting interested in sake bottles. For this reason, sake bottles are always drawn somewhere in the pictures he created during his childhood. Events such as the sea and natural scenery of Ioujima, festivals, and athletic meet. Even if it is a picture of the athletic meet, the main objects were lunch box with the sake bottles and glasses drawn around. Did he draw these pictures, by seeing his parents watching the athletic meet while drinking with their friends in the neighborhood? When he entered the facility at the age of 15, he visited various sake breweries after he got impressed by a visit to a "Shochu" factory, and immersed more seriously when he moved to a group home at the age of 25. He gradually discovered a picture of a sake bottle that he continued to draw in parallel with the sake brewing tour. The above-mentioned solo exhibition was held from December 24 to 28, 2019, and 1500 people came in 5 days.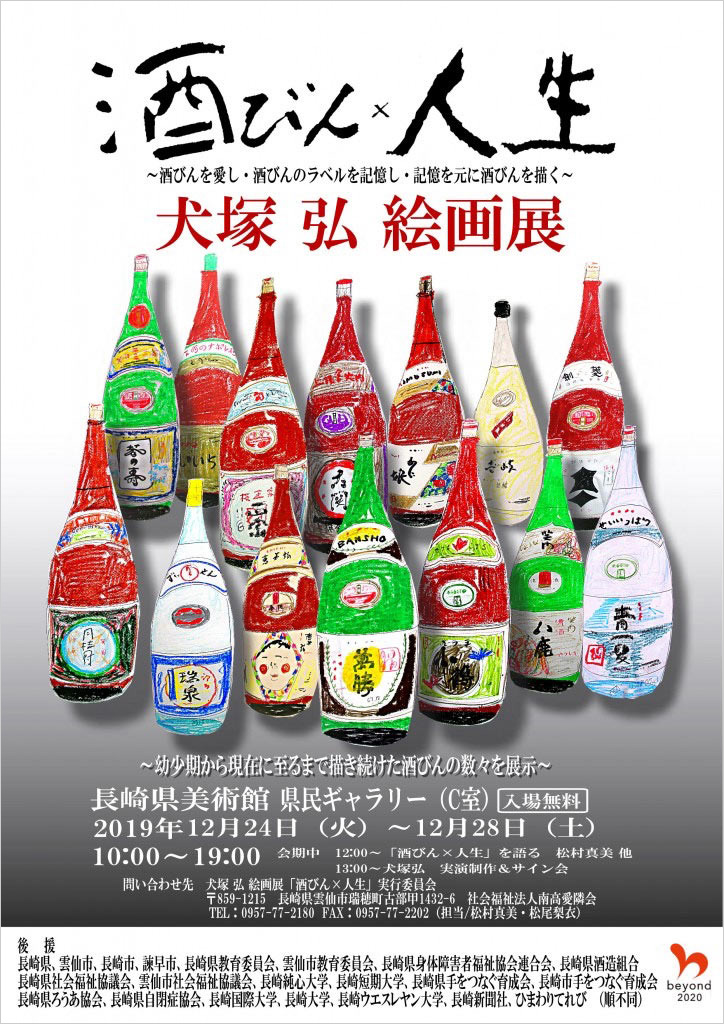 記憶をもとに、一気に描き上げるスピードとエネルギー
Speed and energy to draw at once based on memory
犬塚さんの創作においてすごいのは、情報の収集力と記憶力だ。見ながら模写するのではなく、見て聞いて頭に刻んだことを描き出すスタイルである。東京から来た旨を伝えたら、「澤乃井」をはじめ矢継ぎ早に東京と埼玉の銘柄が出てくるのはさすが。流れで長野の酒の話になり、諏訪の「真澄」が好きだと挙げたら、持参されてきたスケッチブックと画材一式を持ち出され、目の前で描き始めた。
One of the great things about Inuzuka's artworks is his ability to collect and remember information. Rather than copying while watching, it is a style of drawing what is engraved on the head by listening to it. If you tell them that you are from Tokyo, you will soon see brands from Tokyo and Saitama appearing in a row, including "Sawanoi" sake. While talking about this, he also talks about Nagano's sake. When I told I like Suwa's "Masumi", he took out his sketchbook and a set of art supplies and started drawing in front of me.
犬塚さんの絵のもう一つの凄さは、書き上がるまでわずか10分ほどという速さ。鉛筆で一升瓶の外形をするすると型取り、中央にラベルを仕切ってデザインを書き込む。銘柄名をマジックで太く書き込んだら、等級ラベルを書き上げて銘柄名の周りを赤く塗り込んでいく。瓶を透明感ある薄水色で彩色したら、絵は出来上がりだ。一瞬で記憶した情報だけを元に書いているから、線が滑らかで躍動感がある。集中力がすごく手が一切止まらないのも、見ていて気持ちが良い。
Another great thing about Inuzuka's painting is his speed. For him it takes just 10 minutes to complete an artwork. When the outline of the bottle is made with a pencil, it is modeled, the label is divided in the center, and the design is written. After writing the name of the brand thick with magic, he writes down the grade label and paints around the brand name in red. If you paint the bottle with a transparent light blue color, the picture is ready. The lines are smooth and lively because they are written based on only the information stored in a moment. It's very impressive to see that his concentration never stops.
そして犬塚さんの酒瓶画の真骨頂は、まさにここからだ。瓶の周囲の余白に、この酒の関連情報がびっしりと書き込まれていく。酒蔵名に住所、電話番号、分量ごとの値段など、これだけで十分な酒蔵情報になる精度である。目と耳から入ってきた情報はすべて描き切るのが、犬塚さんの作風のもう一つの特徴である。瓶と周りの文字類のバランスが独特で、文字は文字情報としてではなく「画」と認識して再現しているから、字体も筆の流れもかえって現物に良く似ている。
And the true value of Inuzuka's sake bottle painting is right here. In the margins around the bottle, information related to this sake is written closely. His artworks are performed with enough accuracy in obtaining sufficient sake brewery information, such as brewery name, address, telephone number, and price per serving. Another feature of his style is that he draws all the information that comes in through his eyes and ears. The balance between the bottle and the surrounding characters is unique, and the characters are recognizable and recreated as "drawings" rather than as character information.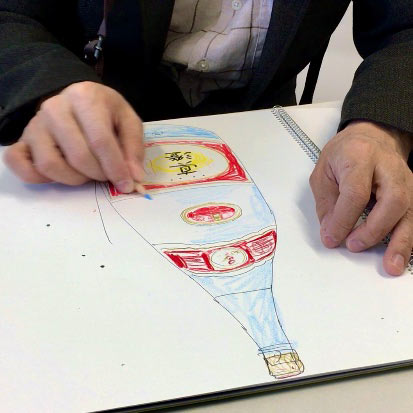 これらの文字は、本から得た情報や店頭に並んだ瓶を見て得た情報に加え、酒蔵巡りをした際には蔵元から聞いた話もすべて記される。蔵元の年齢や家族構成などまで書き込まれた、「個人情報つき」になることもしょっちゅうなのだとか。犬塚さんはこれらすべてを自身の頭の中に整理・記憶して描くため、かなりのエネルギーを使っている。無欲、かつただ好きだからできる能力とはいえ、相応の集中力とパワーが必要なのだろう。
In addition to the information obtained from the books and by looking at the bottles lined up in stores, these characters also include all the stories he heard directly from the brewery when visiting different breweries. It is often the case that "personal information" is written, including the age and family composition of the brewery. Mr. Inuzuka uses a lot of energy to arrange and memorize all of these in his head. Even if his ability to create such artworks is born from just unwillingness or simple fondness, such process requires much power and concentration.
いよいよ仕上がりに近づき、書き込まれる文字を追うと、自分の名前と住所が添えられていく。自身の自己紹介を、もう頭に刻んでもらえているのだ。犬塚さんは酒瓶画のほか、色紙作りもお上手で、知り合った人へのお礼やお祝いに、ラベルを貼り季節やその人との思い出を記して送っているそうだ。
As he approaches the finish and follow the characters to be written, your name and address are added. Your self-introduction is already engraved in his head. Mr. Inuzuka is good at making bottled paper and making colored paper. He says that he sends labels with thanksgiving and celebrations to people he knows, stating the seasons and memories of those people.
犬塚さんとともに南島原市の酒蔵をめぐる
Visiting sake breweries in Minamishimabara with Mr. Inuzuka.
島原半島南部に位置する南島原市には、犬塚さんとの付き合いが深い酒蔵「吉田屋」がある。清酒「萬勝」の醸造元で、犬塚さんは年に3〜4回ほど訪ねては、ラベルを入手したり酒瓶を眺めたりして過ごしている。犬塚さんが暮らすグループホームのある雲仙市西郷地区からは、クルマでおよそ1時間。道中の島原市は島原城の城下町、かつ雲仙山系からの伏流水に恵まれた水の町でもある。水路が設けられた武家屋敷街や鯉が泳ぐまちなどの湧水スポット、和スイーツのかんざらしや島原素麺など、水を生かした観光要素に事欠かない。
In Minamishimabara City, located in the southern part of the Shimabara Peninsula, there is a brewery called "Yoshidaya", which has a close connection with Mr. Inuzuka. This is a brewery of sake "Banshou". Mr. Inuzuka visits about three to four times a year to get labels and look at sake bottles. It takes about 1 hour by car from the Saigo area of Unzen City, where the group home Mr. Inuzuka staying is located. Shimabara City on the way is a castle town of Shimabara Castle and a water town blessed with underground water from the Unzen Mountains. There is abundance of tourist attractions that make use of water, such as spring spots in samurai residences and carp swimming towns with waterways, Japanese sweets, and Shimabara noodles.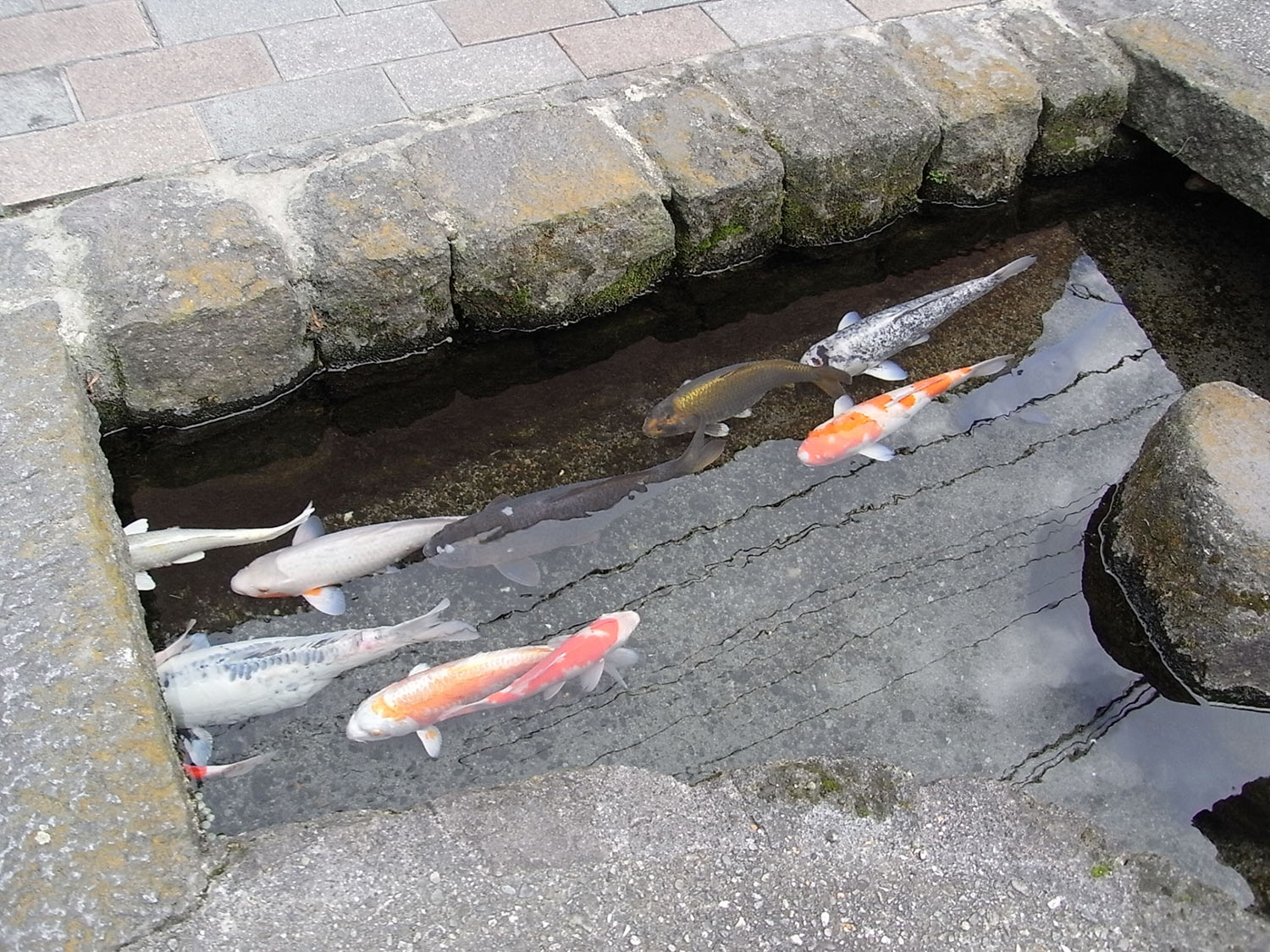 南島原市には、隠れキリシタン弾圧に端を発した「島原・天草一揆」終焉の地となった原城跡を始め、キリシタン遺跡が数多く残ることで知られる。中心部の有家(ありえ)は庄屋の町として栄えた地区で、酒蔵に醤油味噌蔵のほか、そうめん蔵があるのが当地らしい。吉田屋もこの有家の一角に蔵を構えており、国道から離れ古い民家街の路地をやや行ったところに、白壁に瓦葺きの建物群と煉瓦の煙突が見えてきた。
Minamishimabara is known for its many Christian-related remains, including the ruins of Hara Castle, which was the place where the Shimabara-Amakusa Rebellion, which began with the suppression of hidden Christians, was suppressed. Ariie in the center is a prosperous town of Shoya (a village headman in a feudal Japan), and it is said that there was soy sauce miso brewery in the sake brewery as well as "Somen" (fine noodles) storage. "Yoshidaya" also has a storehouse in this corner of the house, and a short distance from the national highway, along an old private street alley, you can see a group of tiled buildings and a brick chimney on a white wall.
吉田屋の創業は大正6年、ご主人の嘉明さんは四代目になる。仕込み蔵へと足を運ぶと、巨大な天秤棒のような装置が圧巻だ。「撥ね木(はねぎ)」という、創業時に使われていた搾り器である。左下の「槽(ふね)」にもろみを詰めた酒袋を積み、「阿弥陀車」という滑車を用いて、長さ8mあるこの木を下ろして圧を掛ける。てこの原理で搾るこのやり方は、手間はかかり繊細な作業だが、それが味に出ると嘉明さん。今では長崎ではここだけ、全国で6カ所ほどしかないという。
"Yoshidaya" was founded in 6 year of Taisho Era (1917 year). Its owner, Mr. Yoshiaki, is the fourth generation of owners. When you go to the brewery, you will see a masterpiece - device like a giant balancing rod. This is a squeezer called "Hanegi", which was used when that brewery was founded. At the bottom left, a tank filled with "Moromi" (unrefined sake) is piled up and a pulley called "Amidaguruma" is used to pull down this tree, which is 8 meters long, and apply pressure. This method of squeezing using the principle of leverage is a tedious and delicate operation, but as Yoshiaki says, it produces taster. Now it is said that there are only about six places here in Nagasaki.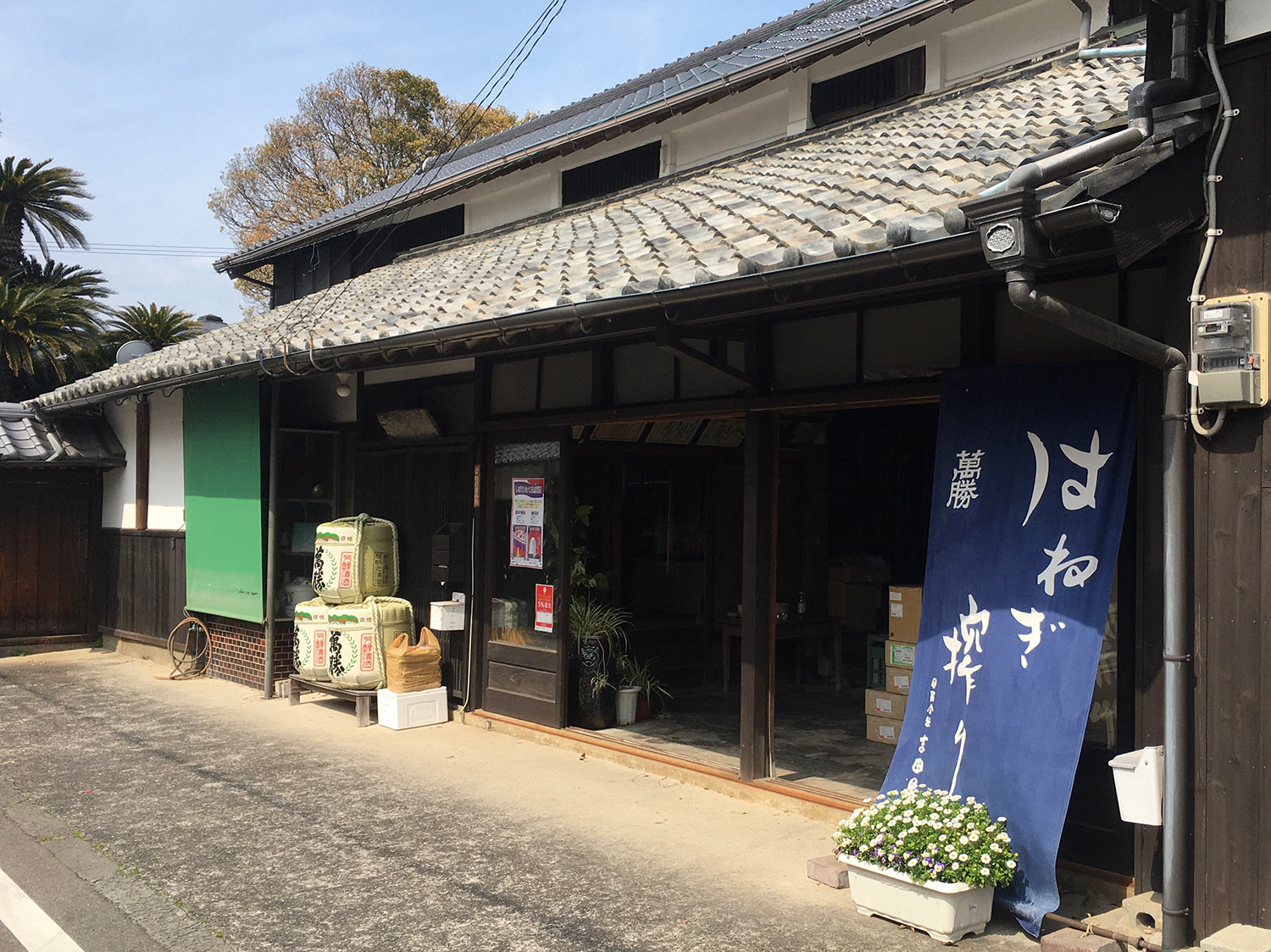 実際に装置を動かしながら説明いただいたが、犬塚さんの関心はむしろ売り場の方に向いている。場所を移すと犬塚さんは帳場に直行、嘉明さんからラベルが入った袋を手渡され、代金10円を支払った。いただくのではなく購入にしているのは犬塚さんの意向で、「商取引」だからちゃんと発注もされている。「いらっしゃる前に送られてくる"注文書"に合わせてラベルを揃えています」と嘉明さん。見せてもらうと細かく指示された銘柄とともに、いついつに行くので用意してほしいと添えられた「依頼状」が、礼節あり丁寧な分、微笑ましくもある。
I got the explanation while actually using the device, but Mr. Inuzuka was definitely more interested in the sales floor. Once you move there, Mr. Inuzuka went straight to the bookstore and was handed a bag with labels from Mr. Yoshiaki and paid 10 yen. It is Mr. Inuzuka's intention that he is purchasing rather than receiving, and because it is a "commerce transaction", orders have been placed properly. "We are preparing the labels according to the" Order Form "sent before coming," says Yoshiaki. Along with the brands that were instructed to be shown in detail, the "Request letter" accompanied by the request when and when I would like to have it prepared is polite and propriety, but also smiling.
「自然体であるがまま。私も犬塚さんも変わりません」
Everything is natural. Me and Mr. Inuzuka remain the same."
このようなやりとりで、いつも犬塚さんを温かく迎える嘉明さんだが、お付き合いが始まった30年ほど前は先代が応対していたのを見つつ、自身はどう接するべきか戸惑っていた時期もあったという。犬塚さんから、ほしいラベルを一方的に要求する電話があっては、驚いて返事に窮する。南高愛隣会の職員からのお詫びの連絡に、恐縮して迷う。自然体のあるがままで接するのがよいとの嘉明さんなりの答えは、そんなやりとりの積み重ねから導き出されたところも大きいようである。
Mr. Yoshiaki always welcomes Mr. Inuzuka warmly with such words, but about 30 years ago when they met first time, there was a time when he was confused how to treat himself while seeing him responding. When Mr. Inuzuka called and unilaterally asked for a one-sided label he wants, Mr. Yoshiaki was confused and had trouble answering. He was little bit ashamed to hear the apology from the staff of the Nanko Airinkai. Mr. Yoshiaki's answer that it is better to communicate with people in a natural way seems to be largely derived from the accumulation of such exchanges experience.
ラベルを購入して、売り場の酒瓶を撮影して、さらに持参の升で少しだけ試飲もして、と忙しなく移動する犬塚さん。吉田屋でのルーティンでもう一つ必須なのが、空き瓶の観察だ。屋外に積まれたケースの山に寄っては離れ、瓶を回しては戻しをしながら、あまたあるラベルを刻み込むかのように、ひたすら凝視する。とても嬉しそうなその様子を見守りつつ、「人として一番の喜びを見せてもらって、こちらも嬉しくなりますね」と嘉明さんが話す。
Mr. Inuzuka travels around without buying a label, taking a picture of a sake bottle at the sales floor, tasting a little at the box he brings. Another essential part of the "Yoshidaya" routine is observing empty bottles. He moves away from the pile of cases stacked outdoors, turns the bottle back, and stares at it as if he was engraving a certain label. "I'm glad to see the joy of people" said Yoshiaki while watching the situation that seemed very happy.
いつも酒蔵にやってきて、このように過ごしていく犬塚さんが、作家として個展を開催するまでになった。好きなことを続けて実って良かった、と語る嘉明さんに、個展を契機に変化があったか尋ねてみたところ、「犬塚さん自身は何も変わりません。だから、こちらも自然体のまま。来てくれたら迎え、望むことをお好きにしていただいています」。その一方で、作家としての犬塚さんにエールも送る。同じ境遇や才能を持つ人でも、誰もが同じ道を歩めるわけではない。なので彼がそのきっかけになってほしいと。
「自由に生き、周りの人を幸せにする、山下清さんみたいな画家になってもらいたいですね」。
Mr. Inuzuka, who has always been at the sake brewery and spends his time in this way, has started to hold a solo exhibition as a writer. When I asked Mr. Yoshiaki, who said it was good to continue doing what he liked, if there had been any changes since the solo exhibition, he told me: "Mr. Inuzuka himself has not changed. I'll welcoming him and let him do whatever he wants. " On the other hand, I send yell to Mr. Inuzuka as a writer. Not everyone with the same circumstances and talents can follow the same path. So, I want him to experience such opportunity.
"I want him to be a painter like Kiyoshi Yamashita who lives freely and makes people happy."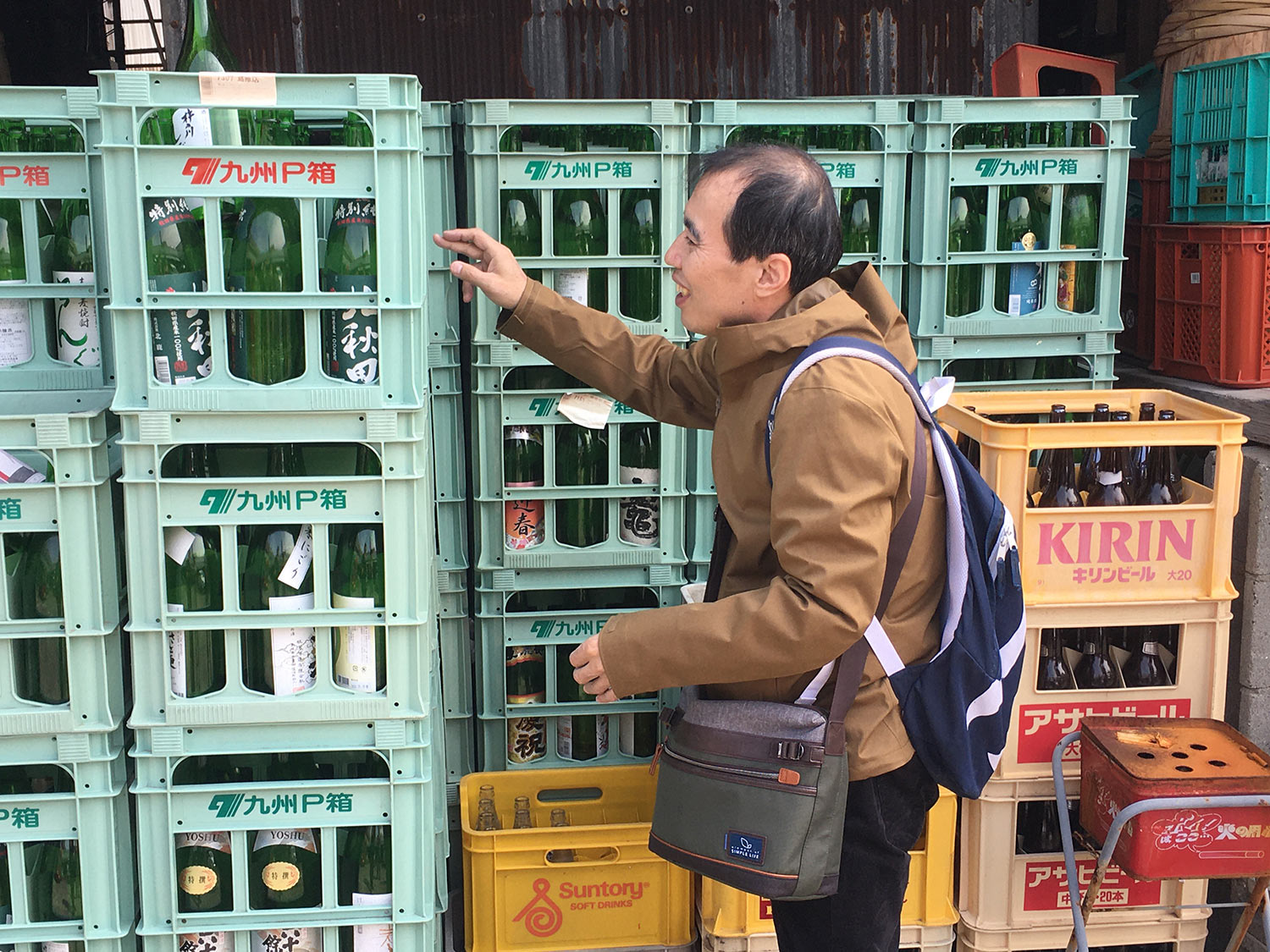 嘉明さんとお話をしている間も、たくさんの酒瓶とひたすら対峙し続ける犬塚さん。近所の酒屋でラベルを見ていた、幼少期から変わらないであろうその姿に、彼の目に映っていた伊王島の風景はどんなものだったのだろうかと思いを巡らせてみる。作品が描かれる舞台である諫早、雲仙、南島原を、犬塚さんと巡ったことで、今度は作品のルーツがあるこの島の中に、自らも身を置いてみたい気持ちになった。
While talking with Mr. Yoshiaki, Mr. Inuzuka continues to face many sake bottles. Looking at the label at a nearby liquor store, the appearance that has not changed since his childhood, I wonder what the landscape of Ioujima that he saw was like. Having traveled to Isahaya, Unzen, and Minamishimabara, where his artworks were created with Mr. Inuzuka, I felt like I want to put myself on this island where the roots of his artworks are laying.
---